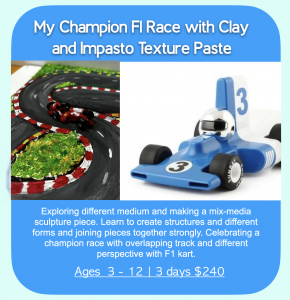 For age 3 – 12. We are going to learn how to observe the basic 3D forms that form a F1 car and using impasto texture paste to create our F1 racing track. This workshop is suitable for beginners who would like to learn how to handle clay and hand building techniques.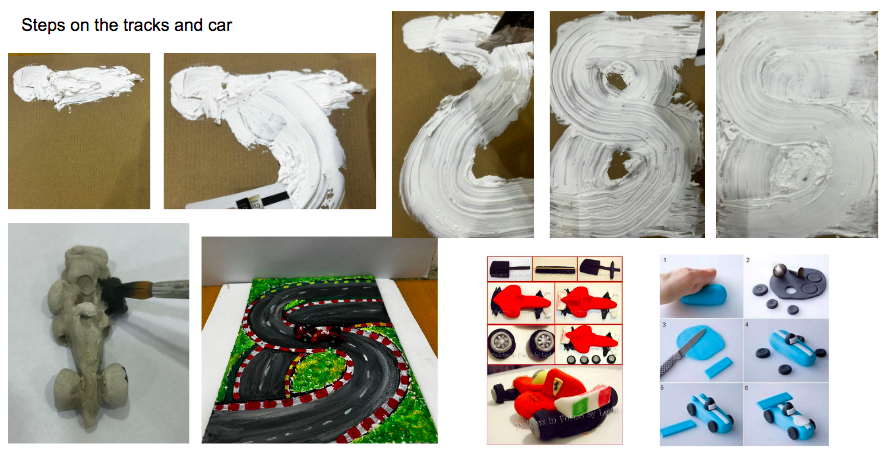 Workshop Terms and Conditions 
•$25 registration fee is applicable for new signups.
•Reservations must be made at least 1 week before the start of workshops week.
•Your booking will be confirmed upon full payment.
•Classes need at least 3 students registered in the time slot to commence.
•All payments are non-transferable and non-refundable.
•All pictures for illustration purposes only. Final outcome of workshop may vary.
•In the event of closure of our physical centres due to a government-mandated shutdown or circumstances beyond our reasonable control, the workshop will be conducted online over video chat instead.
•A class may be of mixed ages, but personal guidance will be given to each student base on their age and level.
•Attendees should arrive at the venue no earlier than 15 minutes before the start of the workshop, and leave no later than 15 minutes.
•Artgrain reserves the right to use attendees' image, artworks, and profile in promotional materials, events, publications, and videos. Attendees' artworks may be featured in our school's social media.