Our aim at Artgrain is to build from these observational skills, drawing and painting abilities to enhance our children's learning experiences. All lessons are pre-taught in the previous week and children are encouraged to work independently to demonstrate their understanding.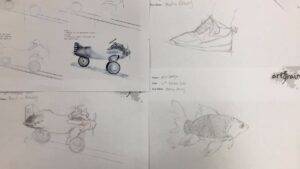 Artgrain will be conducting our Annual Drawing and Painting Observational Week for all students in the Children's Art Program from 17 October 2016 to 13 November 2016.
This lesson will be spread out between 4 weeks: the first and second for teaching, and the third and fourth for students to apply what they have learned into the final artwork. All students in Seedling, Headstart, Foundational, Sketching, Clay and Developmental Art will be taught the key steps and concepts before proceeding with their artwork.
Drawing – the act of seeing, looking, observing and recording – has been an integral part of all our programs since our founding. We want to equip students with the fundamentals of drawing as a key tool for art making and exploration, enhancing a child's artistic abilities.
Timeline of Observational Week:
Week 1 and 2, 17-30 October 2016: Teaching and Practice
This is to facilitate the understanding of the lesson's key techniques and concepts through guided demonstration and verbal explanation for students to practice drawing and painting.
Week 3 and 4, 31 October-13 November 2016: Execution and Completion
Students will proceed to apply the techniques learned in the previous week into their drawing / painting / clay artwork with no technical intervention from teachers. Teachers will only give verbal cues and reminders to students during the session.
Artgrain conducts observational week on top of our weekly teachers observation so as to give the students a review of their learning progress. It gives a good perspective of each child's learning journey, strength and areas of improvement in their drawing and painting skills.
The observation period allows both learning to take place and for parents to gain an insight to their child artistic learning.