Dear Parents, 
Here are some updates on our arrangements for online and offline class.
Our students have been working hard, growing in their art skills, and becoming more independent learners through the online classes!
We will be holding an online exhibition to showcase the works our students have created. Stay tuned for updates!
In accordance with government guidelines, we will be resuming our in-person classes from Monday, 21 June onwards. Students can resume at their regular weekly timeslots.
*If a further closure is announced, all classes will continue online.
We will be complying with all Safety Management Measures, including the following:
Parents and guardians will not be allowed to enter the premises. Please drop and pick off your child at the door.
SafeEntry will be done via token. All students must bring their TraceTogether Tokens to class
Health Declaration Forms must be filled out to ensure students and staff placed on LOA, approved absence, SHN or home quarantine are not allowed to enter the premises
Safe distancing of students through use of acrylic barriers between seats 1m apart, or groups of up to 5 students spaced 1m apart
Masks worn at all times
Sanitizing of tables and equipment between classes
We are happy to be able to conduct our in-person holiday workshops in the week of June 21-25!* Our holiday workshop classes will be held in compliance with all of the above safety measures as well.
Those who have made prior payment for in-person holiday workshops will be able to schedule their workshops during this week. We will be in touch to make arrangements.
If you are interested to sign up, do check out what's available on our website!
*If a further closure is announced, you may choose to attend the workshops online, or use the credit to attend workshops during the September, November or December school holidays.
For parents who prefer to continue letting their children attend classes online, we will continue to make timeslots available for regular weekly class, as well as art jamming and holiday workshops. Please contact your branch to confirm your timeslot for online classes.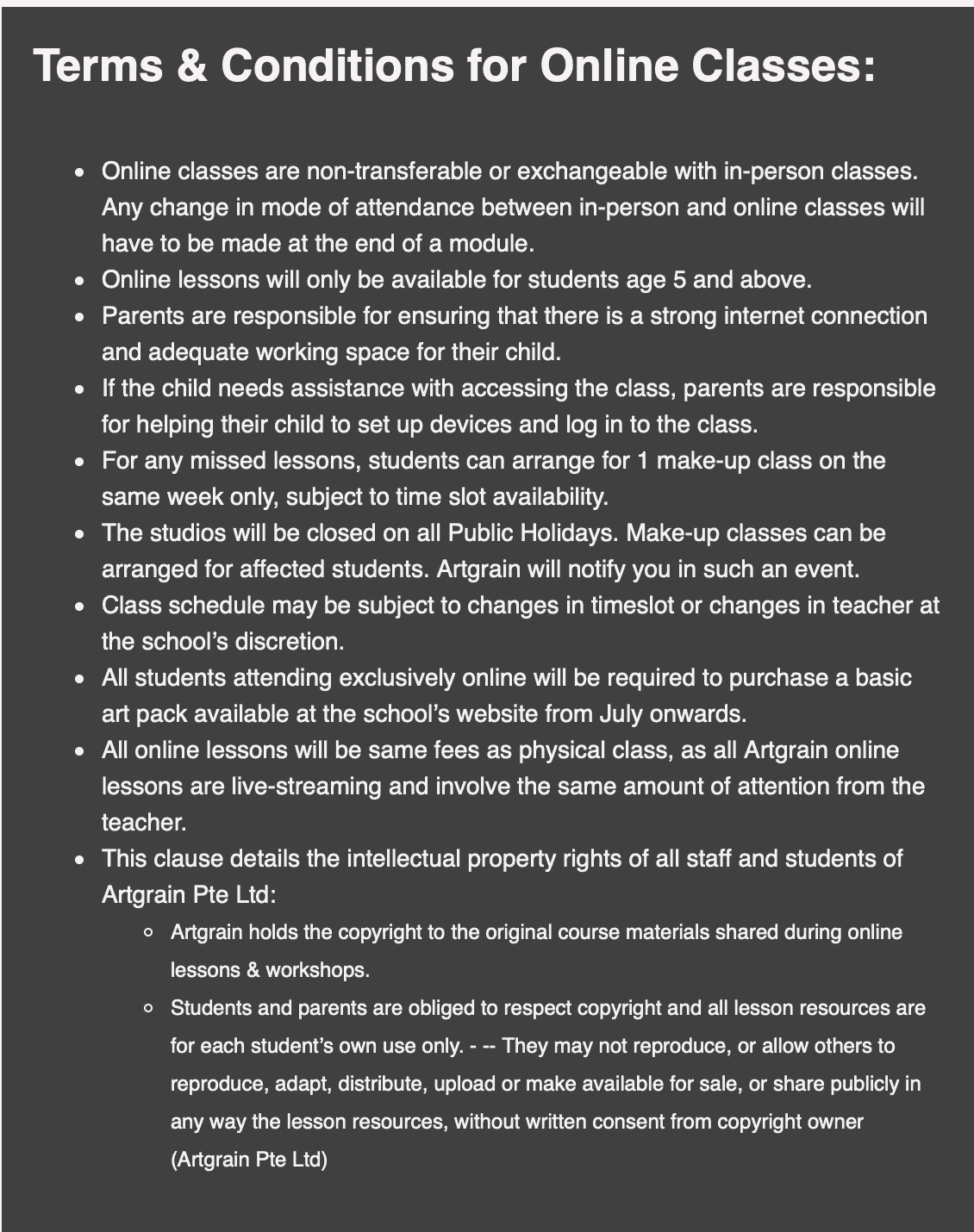 Thank you for your continued support of Artgrain!