Portfolio Preparatory Course
(Age 10 to 12)
Our Portfolio Preparatory Course (PPC) guides 10 – 12 years old students in preparing a body of works that they can take ownership of and call their own. The portfolio will showcase students' acute observational skills, their proficiency in technical drawing and painting, the ability to find inspiration from their experiences, the things around them or societal issues and turn their inspirations into compositions.
Facilitated by our teachers, students will go through the processes of ideation and conceptualisation, experimentation and development, and finally, the realisation of their works in the weekly lessons. They will be exposed to and trained in different mediums such as clay, 3D art, photography and reference different artists' styles.
The portfolio can be used as a supporting document during Direct School Admission (DSA) exercises to secondary schools. DSA Art in Singapore presents opportunities for Primary 6 students who showcase interest, engagement and proficiency in visual art to apply to secondary schools before PSLE. DSA Art secondary schools include, but is not only limited to, School of the Arts (SOTA), National Junior College (NJC), Raffles Girls' School (RGS), St Joseph's Institution (SJI) and Victoria School (VS). Besides the DSA art portfolio, on-the-spot tests comprise the other audition components during the Visual Art DSA exercises to various schools. For comprehensive training encompassing all audition components, workshops are conducted every school holiday.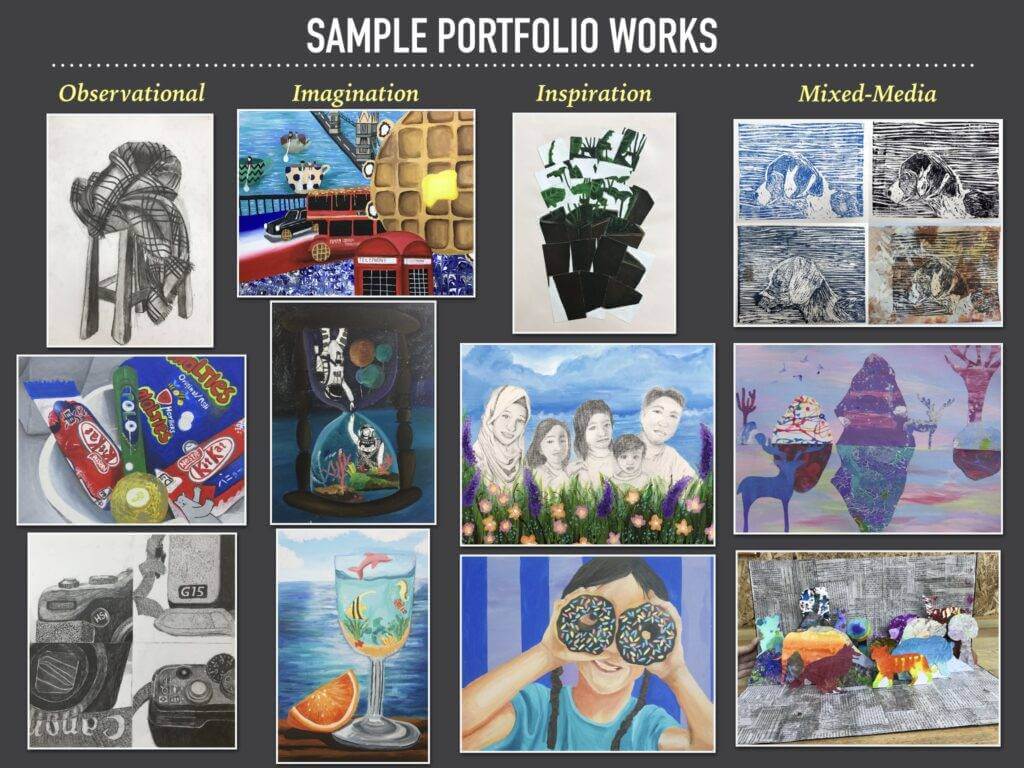 Admission into art programmes & college is, in general, through the following:
Portfolio Submission/Showcase
Drawing/Painting/Visual Arts & Design Entrance Test – on the spot/assignment-based
Interview
Two or more of the above
What will admission tutors/assessors be looking for?
Ultimately, admission tutors/assessors will be looking out for creative and artistic potential in applicants that they want to develop further – namely, the ability to draw, paint, create 2D and/or 3D works, and the development of ideas. And all of these will be reflected in your portfolio. Your Portfolio also tells your admission tutor what you are currently capable of producing and it is often the main criteria in their selection of applicants.

What we will be doing:

Assessment of student's background/works done prior to the course
Consultation of choice of medium & presentation during the course
Completion of 10 artworks during the course
Find one of the artworks done by one of our students below!
Each Module = 10 weekly lessons
Students in this programme are strictly required to commit to:
1) Minimum 4 hrs weekly classes (students normally come in twice a week of 2hrs lessons or 4hrs once a week)
2) Compulsory attendance of all holiday workshops at Thomson Branch. (Normally take place on the first 2 weeks of school holiday) *Workshops are charged separately.*
Module Fee: 2 hours twice a week ($960)  ,  3 hours twice a week ($1380)
Registration Fee: $25
Deposit: $100
Annual Material Fee: $50
Artgrain Journal Book: $12
Trial Lesson (one lesson): 2 hours ($48)  ,  3 hours ($69)
Schedule: Thomson Branch / Bukit Timah Branch / Parkway Branch / Tampines Branch