Developmental Art
(Age 10 to 12)
The Developmental Art modules follow after the Foundational modules are completed.
As our Primary School aged-students get older and develop more experience with art and better control of their tools, they graduate from our Foundational Art (FA) Programme to Developmental Art (DA) Programme. While our FA Programme focuses mostly on painting, the DA Programme offers students more in-depth training in a variety of mediums, with a focus on achieving a realistic style. As students already have a foundation in art, they are well-prepared to hone their understanding of line, colour, tone and composition to a more rigorous level.
This programme explores art at a more comprehensive level, exploring drawing as a visualisation tool. Students will also explore alternative styles in painting and influence from various art movements such as surrealism, expressionism and modern art. This programme aims to develop their illustration skills, understanding art as a narrative and exploring geometric expressions in art.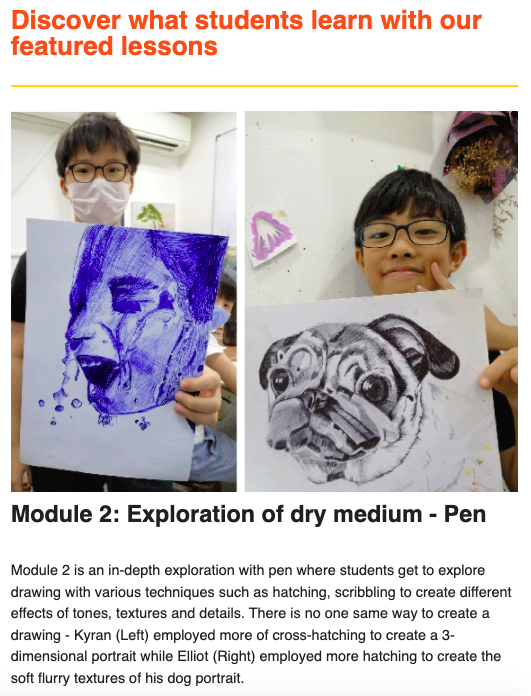 Journals will be used for:
• Recording of concepts, ideas and thoughts as part of collating knowledge in art
• Material and compositional experimentation for the understanding and application of techniques and ideas
• Sketching and drawing for the development of observational skills
• Building up a personal portfolio
All students in the Developmental Art Programme are required to purchase our Artgrain journal for $12 at our studio for their weekly lessons.
(Each Module = 10 weekly lessons):
Module Fee: $370
Registration Fee: $25
Deposit: $100
Artgrain Journal Book: $12
Annual Material Fee: $50
Duration of each lesson: 1 hour 15 minutes ($370) or 2 hours ($450)
Trial Lesson (one lesson): $37
Schedule: Thomson Branch / Bukit Timah Branch / Parkway Branch / Tampines Branch